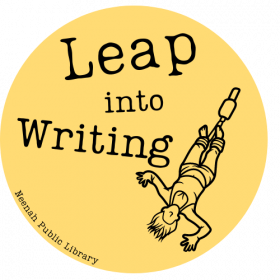 Have you ever wanted to write but couldn't find the time? Or you didn't know where to start? Or you didn't think anyone would read your work so what's the point?
If you've had any of these thoughts Neenah Public Library's new program "Leap into Writing" is for you! Begin with a writing prompt, write a story between 500 and 1,000 words, and get feedback from a real live author/editor.
Here's how it works:
Using that month's writing prompt as a starting point, write a complete story between 500 and 1,000 words.
Email your story as a .PDF to zaborowske@neenahlibrary.org.

Stories should be formatted in 12-point, Times New Roman font. Single spaced.
Please include YOUR NAME and a TITLE of the STORY.

After you submit your story, you will receive a Zoom link as well as a .PDF of the other participant's stories.

Meet in person in June to receive feedback from the editor.

Take what you've learned and begin again with the next writing prompt.
May's Writing Prompt is: "In the Way"
Stories must be emailed to zaborowske@neenahlibrary.org by Friday, May 26th! Stories should be formatted in 12-point, Times New Roman font. Single spaced. Please submit your story as a .PDF. Please Title your Story and include your name. Include your name and library card number in the email. Thank you!
Meet with Guest Editor is Kristin Tenor!
Kristin Tenor is a writer and editor who finds inspiration in life's quiet details and believes in their power to illuminate the extraordinary. Her flash fiction and short stories have appeared in various literary journals including The Midwest Review, Wigleaf, Flash Frog, Bending Genres, Milk Candy Review, X-R-A-Y, Emerge Literary Journal, among others. Her work has been nominated for Best of the Net, Best Small Fictions, and the Pushcart Prize and longlisted for Wigleaf's Top 50. In the past, she has served as a volunteer reader for Spry Literary Journal and as the editor-in-chief and flash fiction editor at CRAFT. She and her husband call Wisconsin home.
This program is designed for ages 18 and older.
May 26, 2023 @ 07:00 pm