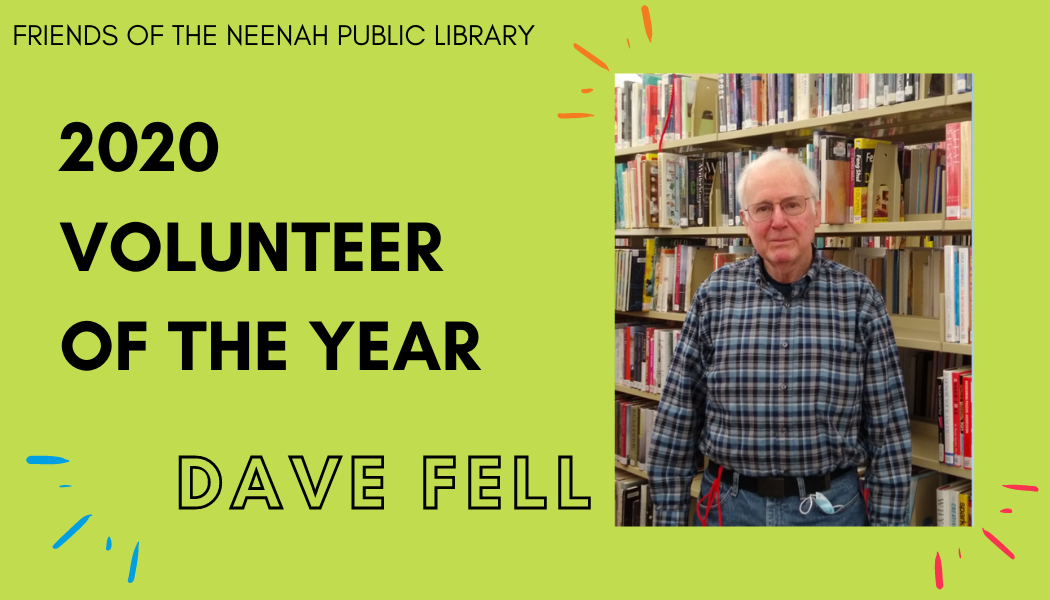 2020 Volunteer of the Year: Dave Fell
The Friends of the Neenah Public Library are proud to announce the 2020 Volunteer of the Year, Dave Fell!
Dave is originally from Philadelphia but has been a resident of the Fox Valley for 44 years. He is married with three sons and has three grandkids. He is retired from Kimberly-Clark Corporation, where he worked for 31 years in Research and Engineering.
Dave has been a volunteer with the Neenah Public Library since December of 2016. From 2017 to 2019, he volunteered over 480 hours! He would have volunteered many more hours in 2020, but due to the pandemic, the library either was not open or not allowing volunteers for several months. Dave has a friendly, composed presence about him and takes his time ensuring the items shelved in the Adult section are correctly placed. He most enjoys shelving non-fiction books and all movies to find something he would like to read or watch.
When asked why he likes to volunteer at the Neenah Public Library, he explained that the library is an extremely useful institution, and it is a pleasant place to be with people he enjoys. He is a self-described bibliophile who read 62 books in 2020. During the last one and half years, he also read all the Greek tragedies.
Besides volunteering at the library, he has also volunteered with the Big Brothers Big Sisters Bike Tour, and he is a board member of the Friends of the Neenah Public Library. In his free time, he enjoys biking and hiking in the area.
The Neenah Public Library would like to thank Dave for his hard work over the last few years, and we look forward to having him as a volunteer for the years to come.
Love books? Love your library? Volunteer!
Library Volunteers:
…make a HUGE difference! Almost 4500 hours were volunteered in 2019- and volunteers shelved almost HALF of all the items that were circulated!
…make their OWN SCHEDULE.  Once you have been trained, you can come when it is convenient for you!
…come in all shapes and sizes!  Teens, adults, and seniors can all volunteer at the library- there's something for everyone!
How to apply?
Download the

Volunteer Application

here or pick one up at the checkout desk.
Fill it out and return it to the library. You may email the application or drop it off at the checkout desk.
That's it!  The volunteer coordinator will contact you to set up an interview.
Any questions? Contact the volunteer coordinator at 886-6321 or 

laux-robak@neenahlibrary.org
Please review our Volunteer Policy for details about volunteering at the library.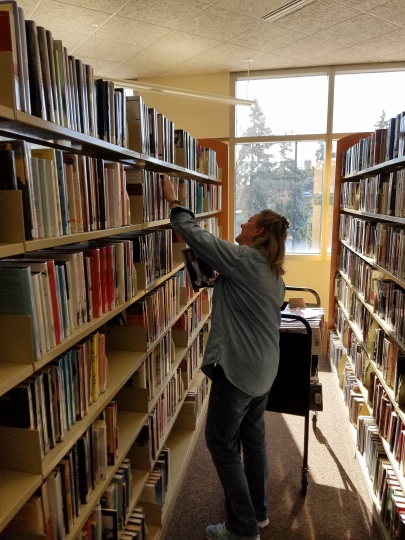 Not able to volunteer your time? Become a Friend of the Library today.