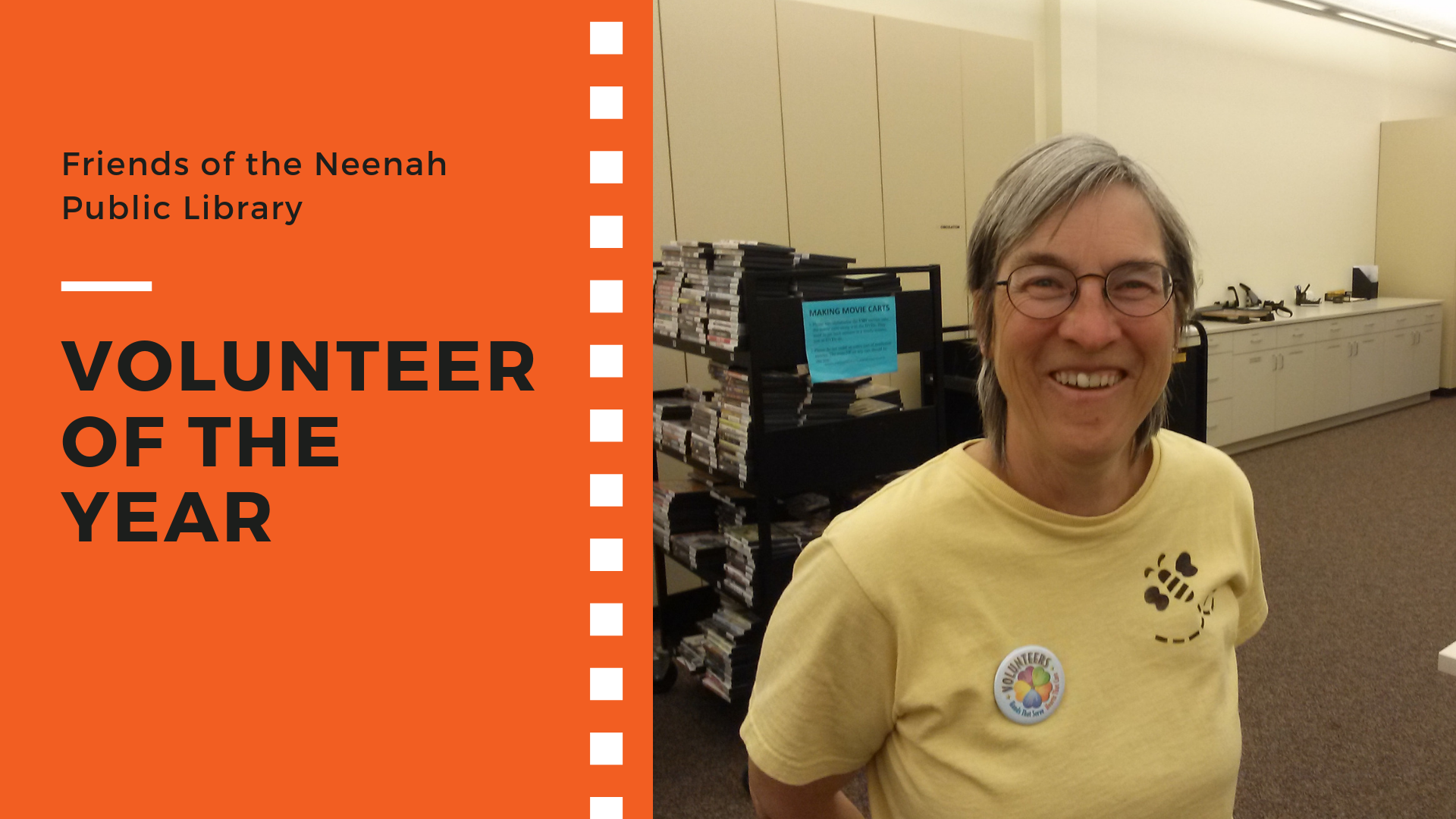 2019 VOLUNTEER OF THE YEAR: SANDY KRUPKA
The Friends of the Neenah Public Library are proud to announce their 2019 Volunteer of the Year – Sandy Krupka! Sandy has been volunteering at NPL for over six years and in that time has become an indispensable part of the volunteer team. Sandy has donated over 500 hours of her time to the library but has given more than just her efforts. Commonly known to young Library patrons as the "butterfly lady," Sandy kindly donated an army of caterpillars to the Youth Department, so kids could witness their progress as they developed into butterflies. Considerate actions like that are just part of the reason that Sandy deserves to be the 2019 volunteer of the year.
Before retiring and joining the Library as a volunteer, Sandy spent much of her life caring for her children and working at Phoenix Printing in Oshkosh. She moved from Hortonville to Neenah in 1976 and has been a resident ever since. When her daughter was a toddler, they would take trips to the Neenah Library to enjoy the family programs, and now her daughter does the same with her young daughter. An understanding of what the library has to offer the community is her motivation to give back and volunteer. Sandy says the thing she enjoys most about volunteering is how grateful the staff is every time you come in. "Everyone is so thankful when you are there to help," she explained, "you feel so appreciated." But with the work that Sandy does, it is impossible not to appreciate her! Staff members are often flabbergasted at the large number of carts she is able to shelve every time she comes in. "Sandy is a crazy hard worker. If there are more carts waiting to be shelved she will keep hustling until every book is back where it belongs. We like to joke that she puts the carts away as fast as I can put them together for her," said Amy Molitor, the Library's Volunteer Coordinator.
Sandy is an active volunteer with other organizations as well – you may have seen her & her husband featured as outstanding volunteers for Habitat for Humanity in the Post Crescent in May of 2018. She also does the environment a service as an avid beekeeper and enjoys educating others on the benefits of beekeeping, as well as sharing the fruits of her labor – the honey! Her talents and dedication are in great demand and the Library is so grateful to have her spend some her valuable time helping better serve the community.
Love books? Love your library? Volunteer!
Library Volunteers:
…make a HUGE difference!  Over 6000 hours were volunteered in 2016- and volunteers shelved almost HALF of all the items that were circulated!
…make their OWN SCHEDULE.  Once you have been trained, you can come when it is convenient for you!
…come in all shapes and sizes!  Teens, adults, and seniors can all volunteer at the library- there's something for everyone!
What do I need to do?
Pick up or print off a Volunteer Application (applications available at the checkout desk or online)
Fill it out and return to the library
That's it!  The volunteer coordinator will contact you to set up an interview
Any questions?  Contact the volunteer coordinator at 886-6321 or molitor@neenahlibrary.org
Types of Volunteer Opportunities
Please review our Volunteer Policy for details about volunteering at the library.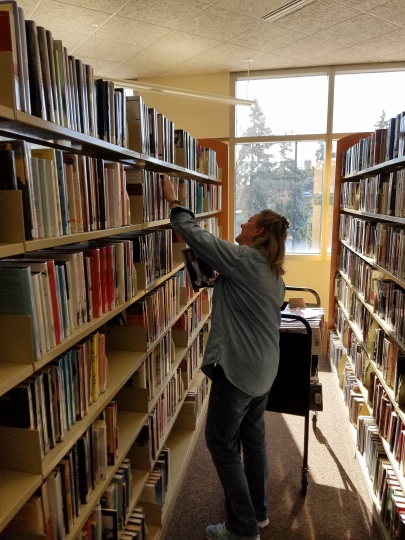 Community Service Volunteers
As of February 1, 2006, anyone who wants to volunteer at the library to work off library fines or for Court-Ordered community service hours must be under 17 years old. The Volunteer Application form must include a parent or guardian signature.
Approval of all Court-Ordered applicants will be at the discretion of the Circulation Services Manager. The library need not specify a reason for unapproved applicants.
Not able to volunteer your time? Become a Friend of the Library today.