Check out our collection of Experience Kits at the Neenah Public Library. Sponsored by the Friends of the Neenah Public Library, each kit includes a variety of items with everything you need to experience a new interest, skill, craft, or game!
Have you always wanted to try making pasta from scratch? Check out the Fresh Pasta Kit before purchasing your own pasta maker. Interested in weaving? Try out your skills with our Weaving for Beginners kit.
Please note that not every kit will be appropriate for every individual. Each kit was created around a theme, and are checked out for 14-days. The kits were made possible by support from the Friends of the Neenah Public Library.
Call 920-886-6315 to place a hold, or place a copy-level hold on the kit through the online catalog.
Please reach out with any questions!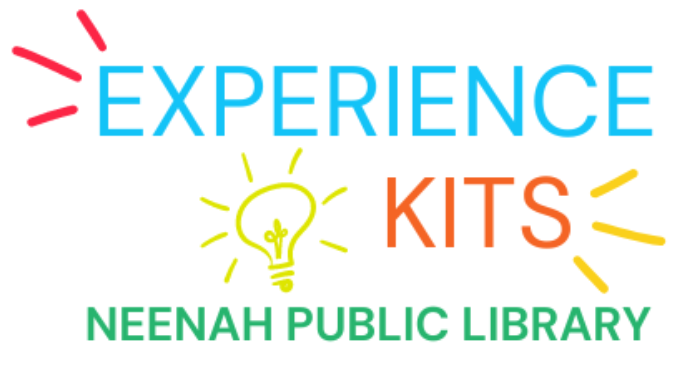 ---
NPL Experience Kit Collection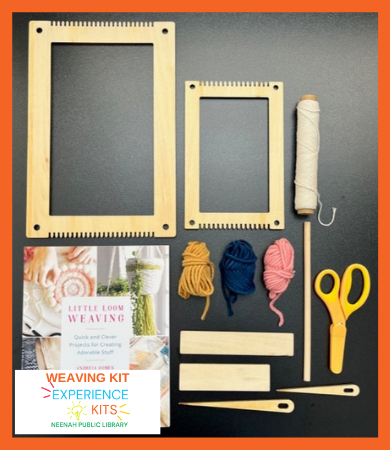 ​​​​​​​Beginners Loom-Large

Beginners Loom-Small

Yarn in Assorted Colors

Four Wooden Weaving Tools

Warp Thread

Scissors

Clear Craft Glue

Little Loom Weaving by Andreia Gomes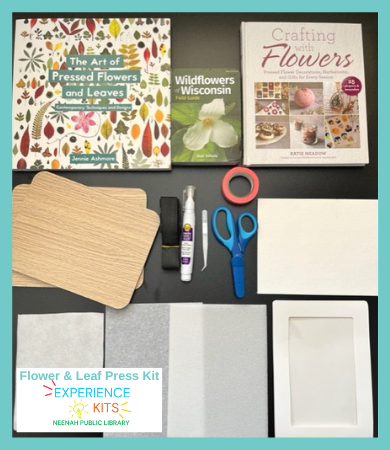 Beginner Flower & Leaf Press

Flower & Leaf Press: Basic Supplies

The Art of Pressed Flowers & Leaves by Jennie Ashmore
Crafting With Flowers by Katie Meadow
Wildflowers of Wisconsin Field Guide by Stan Tekiela

Scissors

Tweezers

Clear Craft Glue

Craft Tape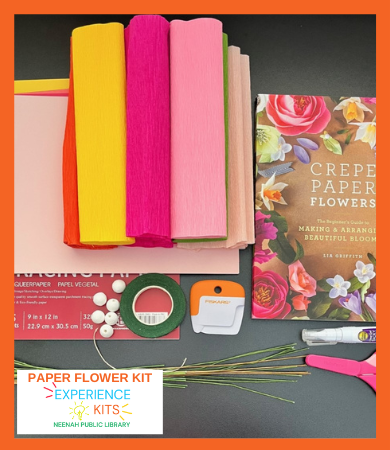 Assorted Crepe & Cardstock Paper

Tracing Paper

Paper-Covered Floral Wire

Floral Tape

Cotton Spun Paper Balls

Scissors

Clear Craft Glue

Paper Curler & Scoring Tool

Paper Templates for Flower Designs

Crepe Paper Flowers by Lia Griffith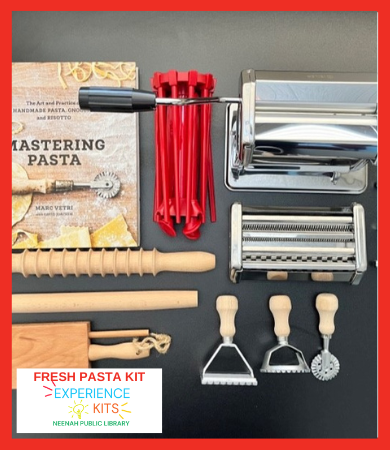 Manual Pasta Roller

Pasta Drying Rack

French Rolling Pin

Pasta Cutter Wooden Rolling Pin

Gnocchi Board & Roller

Square & Circular Ravioli Stamps

Crinkle Pasta Wheel Cutter

Mastering Pasta by Marc Vetri
Homemade Pasta Made Simple by Manuela Zangara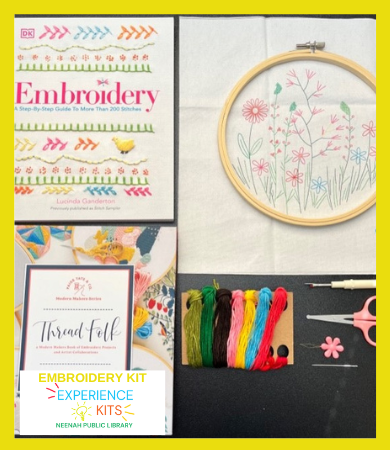 1 Wooden Embroidery Hoop

Cloth Printed with an Embroidery Pattern

A Variety of Embroidery Thread

Scissors

Seam Ripper

Embroidery Needles & Threader

Embroidery: A Step-By-Step Guide by DK
Thread Folk by Libby Moore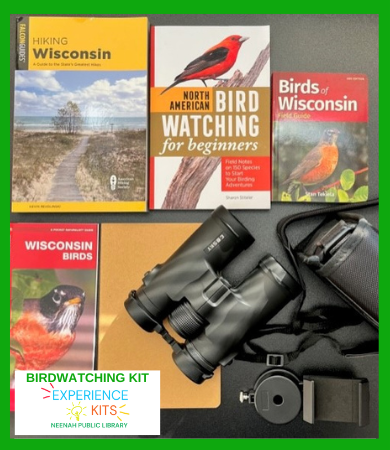 Binoculars 10 X 42

Smartphone Adapter for Binoculars

Blank Field Notebook

North American Bird Watching for Beginners by Sharon Stiteler
Birds Of Wisconsin Field Guide by Stan Tekiela
Hiking Wisconsin: A Guide to the State's Greatest Hikes by Kevin Revolinski
Wisconsin Birds: A Folding Pocket Guide to Familiar Species by James Kavanagh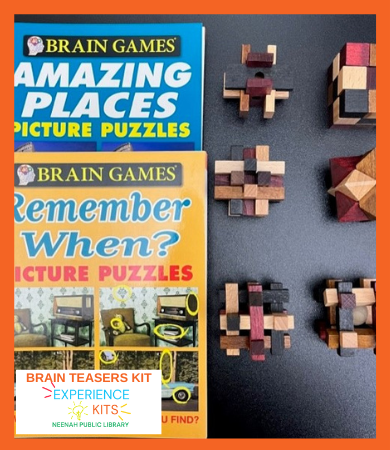 Book: Brain Games: Amazing Places! Picture Puzzles
Book: Brain Games: Remember When? Picture Puzzles

Assortment of 3D Wooden Puzzles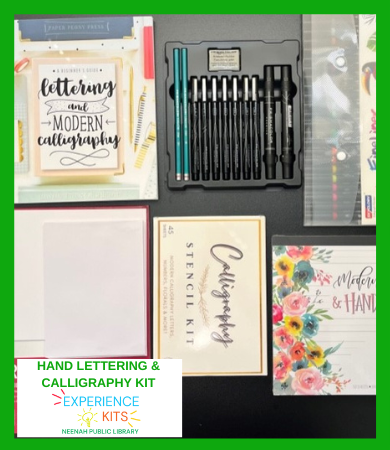 Hand Lettering and Calligraphy Kit
Lettering & Modern Calligraphy by Paper Peony Press

Calligraphy Stencil Set

Tracing Paper

Calligraphy Practice Paper

Set of Illustration Markers

Set of Felt Tipped Brush Pens

Graphite Pencils

Artist Quality Paper

Blank Cards & Envelopes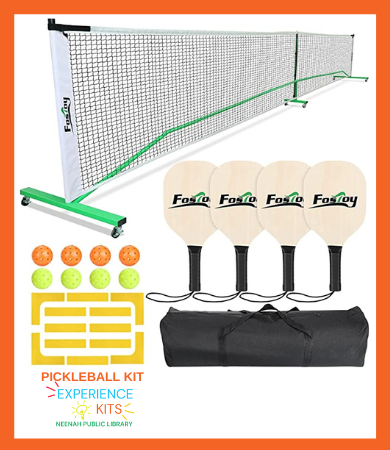 Pickleball Net Stand with Wheels (Assembly Required)

Pickleball Net

4 Pickleball Paddles

6 Pickleball Balls

Court Markers

1 Carrying Case
More creative kits are on the way!