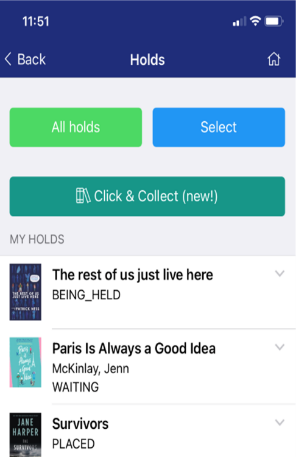 Click & Collect on the Winnefox App
Click & Collect is a safe and convenient way to pick up "on-hold" items from the Neenah Public Library. Instead of calling the library when you arrive, you can use the Click & Collect option through the Winnefox app.
1. From the Winnefox app, go to My Account to view your available holds. If you have available holds, and the Library is open, the Click & Collect button will appear.
Tap Click & Collect
2. Before heading to the library to pick up your available holds, tap I'm on my way. 
3. Allow the app to use your location or select an ETA option.
4. When you are parked in the circle drive, tap I'm here!
5. Staff will will bring your items out to your vehicle or place them in box #4.
6. Tap Done-I have my items.