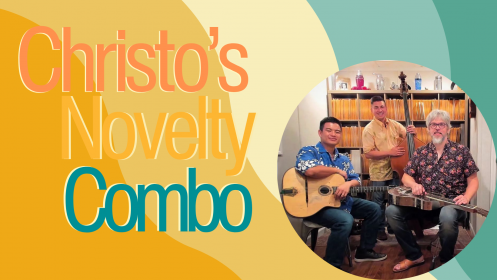 "Hot Hawaiian guitar meets Jazz à la Django!"
"Novelty infused hot steel guitar and ukulele blended with the swinging sounds of French jazz." This talented trio includes Christo Ruppenthal on steel guitar, jazz guitar, and ukulele. Gian Compuesto on jazz guitar and Forrest Evans on upright bass.

"What happened when Jazz guitar legend Django Reinhardt met Hot Hawaiian steel guitar virtuoso Sol Ho'opi'i? A new type of driving acoustic swing music was born! Well, actually that never did really happen. However it's the exciting blending of styles that Christo's Novelty Combo is built on. They present is a unique mixture of the Vaudeville era, novelty infused hot steel guitar and ukulele of the 1920s and 30s "Hawaiian Craze" and the swinging sounds of French jazz from the 1930s and 40s. The Combo's primary repertoire comes from Christo's "Antique Aloha" and "Café Allongé" records. They use that repertoire to present high energy eclectic shows. Christo peppers in historical anecdotes about the music presented to give it context. Christo has had extensive performance experience in many settings including large music festivals, concert series, night club gigs, and private events. His Combo is equally as comfortable on the main stage as is is in an intimate living room house concert. Their unique sound is always met with rave reviews!" 
Join us at the library for afternoon concerts from a variety of unique and talented artists! Performances are free and open to the public. The Concert Series is sponsored in part by The Friends of the Neenah Public Library.
November 26, 2023 @ 02:00 pm