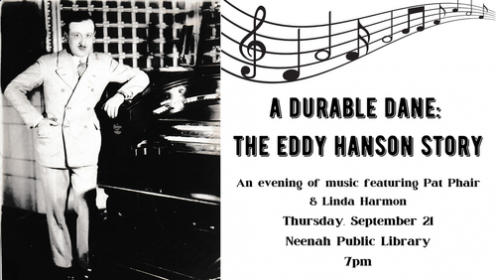 A master of the keyboard, a composer of over 400 published pieces including Rattlesnake Rag and the official Wisconsin State Polka, Eddy Hanson spent the better part of seven decades at work in the entertainment world. From his penniless days growing up in central Wisconsin to the top of the penthouse in Chicago his life was filled with successful adventures and personal mishaps. Through it all, Hanson remained true to his local roots and devotion to family.
This presentation will follow Eddy's storied career in the form of a mini-drama while listening to several of his works.
Linda Harmon plays Eddy Hanson songs as playwright Patrick Phair narrates.
The program will be held in the 1st floor Shattuck Community Room.
History programs are sponsored by the Neenah Historical Society and co-sponsored by the Neenah Public Library
September 21, 2023 @ 07:00 pm