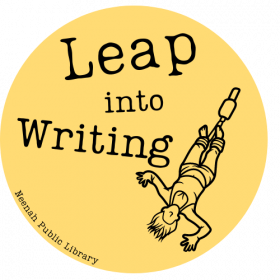 Have you ever wanted to write but couldn't find the time? Or you didn't know where to start? Or you didn't think anyone would read your work so what's the point?
If you've had any of these thoughts Neenah Public Library's new program "Leap into Writing" is for you! Begin with a writing prompt, write a story between 500 and 1,000 words, and get feedback from a real live author/editor.
Here's how it works:
Using that month's writing prompt as a starting point, write a complete story between 500 and 1,000 words.
Email your story as a .PDF to zaborowske@neenahlibrary.org.

Stories should be formatted in 12-point, Times New Roman font. Single spaced.
Please include YOUR NAME and a TITLE of the STORY.

After you submit your story, you will receive a Zoom link as well as a .PDF of the other participant's stories.

Meet on Zoom on Monday, April 17th, at 7:00 pm to receive feedback from the editor.

Take what you've learned and begin again with the next writing prompt.
April's Writing Prompt is: "Music Album"
Pick your favorite music album as an inspiration for a story.
Need something more specific? Try one of these:
1) Include words from the song titles in your work.
2) Create a scene from the album's cover art.
3) Play the album while you type and let the music guide you.
Stories must be emailed to zaborowske@neenahlibrary.org by Monday, March 20th! Stories should be formatted in 12-point, Times New Roman font. Single spaced. Please submit your story as a .PDF. Please Title your Story and include your name. Include your name and library card number in the email. Thank you!
February's Guest Editor is

Nikki Kallio

!
Nikki Kallio's Bio:
I've been writing in one form or another since I was a kid, starting with crayons and construction paper. Sci-fi sparked my imagination, and I began writing short stories (and sometimes bad poetry). In college, a class on climate change captured my attention and it launched both a serious dive into creative writing and a career journalism, which took me from Wisconsin to Maine and California and back.
In 2010, I enrolled in Goddard College, where I completed a Master of Fine Arts degree with an emphasis on post-apocalyptic fiction. Since then, my creative work has developed mainly under the umbrella of sci-fi, fantasy, and gothic fiction. 
I like moody settings and the liminal space between literary and genre fiction. I love the conjuring process of writing, the magic of watching a story spin from just a few simple words or phrases, and I'm enchanted by how stories manifest for each writer. I enjoy helping other people find their own creative magic, too.
When I'm not writing fiction, I work as a freelance writer, editor and instructor in Wisconsin. I've led workshops for The Mill: A Place for Writers, the UntitledTown Book & Author Festival, and Wide Open Writing, a retreat organization that has brought writers to Italy, Morocco, Mexico and elsewhere. 
My creative work has appeared in literary journals such as the Pitkin Review, Midwestern Gothic, and Minerva Rising, where I'm now the Fiction Editor. My essay "Cold Front" appears in "(Her)oics, Women's Lived Experiences During the Coronavirus Pandemic" (Edited by Amy Roost & Joanell Serra, Pact Press, 2021). My short story collection "Finding the Bones" is forthcoming from Cornerstone Press in 2023.
This program is designed for ages 18 and older.
March 20, 2023 @ 07:00 pm