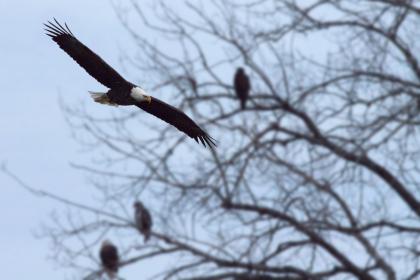 BALD EAGLE ECOLOGY with Director and Naturalist of 1000 Islands Environmental Center, Debra Nowak
Bald Eagles started coming to the 1000 Islands area in Kaukauna in the late 1970s. The hydro dam, mills and great drop in the river elevation keeps the water open more than in other areas. The river also provides many fish, which is a primary source of food for eagles. The 350 acres of Conservancy Zone give the eagles a place on the river to navigate away from people.
Learn more about the history and life cycle of bald eagles as well as the importance of these strong birds in their ecosystem.
The Adult Afternoon Program series is sponsored by the Friends of the Neenah Public Library and is free and open to the public.
December 05, 2022 @ 02:00 pm