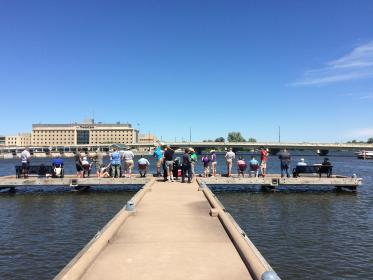 Come fish off the dock by the Neenah Public Library! We'll meet inside the library and then head out to see how many fish we can catch. We received a special fishing license waiver from the Wisconsin DNR. Volunteers will need a license if they plan to fish. We will have fishing poles, but feel free to bring your own. The Neenah High School Fishing Team will help us reel in the fish. If the weather is poor, we'll share our fish stories and engage in other fish-related activities in the library.
---
Memory Cafés are for those experiencing early-stage dementia, mild memory loss, or cognitive impairment, and for family and friends of those affected. It's a great opportunity for lively discussions, information gathering, refreshments, camaraderie, and lots of creative fun thrown in! We have a gerontology professional on hand to answer questions and an enormous wealth of experience among participants to be shared. We'd be delighted if you would join us!
This program was made possible by the Friends of the Neenah Library and the Neenah Public Library Trust Fund. Donations to the Friends and the Trust Fund are always accepted and appreciated.
June 20, 2022 @ 01:30 pm