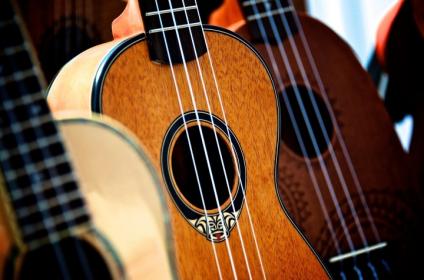 Free weekly ukulele workshops with Sam 'Ālika Bader begins Thursday, January 17. At the Thursday workshops, Sam will teach new skills, new techniques, and new songs – something new every week! For confident beginners, advanced beginners, and intermediate level ukulele players.
Workshops are held on Thursdays, from January 17 through March 14, from 6:00 – 7:00 p.m. in the Library's Storytime Room. No registration required and no fee. Attend a few or all nine workshops.
Sam, a multi-instrumentalist and native Hawaiian, has been playing ukulele from the age of 9. He has been teaching group ukulele classes at the Library since 2016.
March 14 @ 06:00 pm